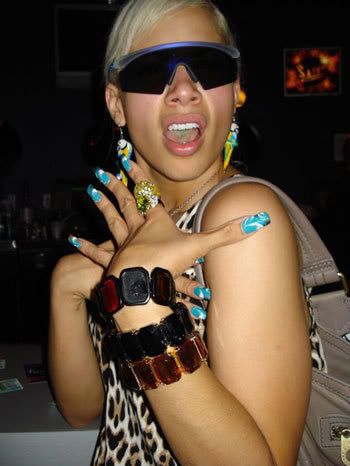 Congratulations Kid Sister!!!!!!  Chicago native Kid Sister has finally sealed a deal with Downtown records, home of Gnarls Barkley , Mos Def , Santogold and many more.  Kid Sister has been creating a buzz for a while with her Fools Gold family which includes Dj A-Trak and others.  I had the pleasure to meet her on my B-day and she's a very energetic and beautiful person , so I'm happy her dream came true.  Her single Pro nails is finally getting played on radio stations and will be on MTV for "Spankin" new ladies week.  
This is what Kid Sister had to say about Downtown records : 
"Their roster is impeccable and the attitude at the company is so relaxed and cool," Kid Sis said of signing to Downtown, also via statement."I don't wanna call them an indie and definitely won't call them a major but still they've got some serious muscle. They're just that rare, perfect fit you always dream about... like a fancy pair of jeans!"
Look out for her album " Koko B. Ware " this summer 
Check out one my favorite songs from Kid Sister called " Control"